Good Reads: Boomtown slum, democracy in progress, and 'rewilding' in the Netherlands
(Read article summary)
This week's good reads include a day in Kenya's bustling Kibera slum, the struggle to promote democracy in the Arab world, and a radical conservation theory in the Netherlands.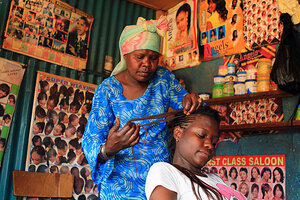 Noor Khamis/Reuters
The image of an African shantytown does not usually conjure up hope for economic prosperity. But Kibera, one of Nairobi's slums and arguably Africa's largest slum, is exactly that for the Kenyans who call it home. In The Economist, a writer chronicled a day in Kibera, describing the slum's ebbs and flows, capturing its entrepreneurial spirit. People from all over Kenya leave their towns and villages for a chance to find work in Kibera's "thriving economic machine."
The half-mile-by-two-mile area accommodates roughly 1 million people, wedged together in repurposed wood-and-corrugated-tin-roof structures. The alleys that wind through the slum vary in size, but there is no room for cars. Many of the residents work in nearby factories or offices. Others find economic opportunity in providing goods and services for Kibera's residents.
When Cecilia Achieng moved to the slum, she started a school, at first renting space from an empty church. She eventually saved enough money to build six makeshift classrooms. After school, Ms. Achieng starts her second job: catering. She caters church events, funerals, and is even trying to get into weddings. In the evening, Achieng goes door to door offering her services as a hairdresser.
"To equate slums with idleness and misery is to misunderstand them," the correspondent writes. "Slums are far from hopeless places; many are not where economic losers end up, but rather reservoirs of tomorrow's winners."
The promise of the Arab Spring
As post-Arab Spring countries struggle to establish democratic institutions, pessimism about their ultimate success misses a broader lesson: Stable democracies have historically evolved from violent uprisings, initial failures, and stumbling blocks.
---