Why North Korea is turning up the heat again
(Read article summary)
North Korea's military is vowing to cancel the 1953 cease-fire that effectively ended the Korean War, straining frayed ties in the region as the UN moves to impose new sanctions.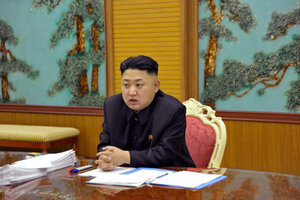 Korean Central News Agency via Korea News Service/AP
It's been a dramatic week on the Korean Peninsula, culminating with a threat from North Korea to break the 60-year truce with the South and the subsequent terse warning from South Korea's military Wednesday that it would respond to any attack from North Korea with "strong and stern measures."
In case you missed it, this comes on the heels of China's agreement to sanction the North, and former NBA star Dennis Rodman's debrief on his basketball diplomacy trip to the world's most isolated country – and, lest we forget it, rumors of an expansion of the Kim dynasty.
The North's bombast also comes ahead of planned military exercises during an especially tense period. The US and South Korea's regular combined field-training exercises are set for early next week, and North Korea has been observed planning their own exercises, which could set the stage for a clash as happened in 2010. The deadly shelling of Yeonpyeong Island broke out after North Korea claimed that the South had fired into its waters during routine exercises.
---