Russian tycoon found dead in Britain: Is it suicide?
(Read article summary)
Russian tycoon found dead: Boris Berezovsky was found in his Surrey, England, home, dead. Cause of death is not known yet. But there is speculation that the once-wealthy Russian tycoon committed suicide.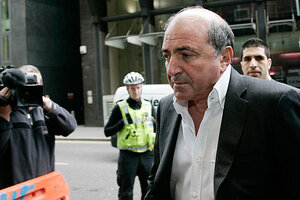 AP Photo/Sang Tan, File
Boris Berezovsky, once a wealthy Russian oligarch, was found dead in his home in Surrey, England.
The cause of death is unknown at this time. But speculation that Berezovsky committed suicide is rampant, especially in Russian media.
Two things are prompting the speculation. First, a Russian lawyer, Alexander Dobrovinsky, was among the first to announce his death and posted in social media the following, according to RT.com:
"Just got a call from London. Boris Berezovsky committed suicide. He was a difficult man. A move of disparity? Impossible to live poor? A strike of blows? I am afraid no one will get to know now,"
There's no indication of the quality of Dobrovinsky's source. Certainly, British police have not yet made public a cause of death.
The second factor fueling the suicide talk is the very public decline in Berezovsky's wealth. He had lost several court cases and was known to be selling off real estate, a yacht, and art to raise funds. As The Guardian of London reports:
"Berezovsky's death comes only months after he lost a high-profile and personally disastrous court case against fellow Russian oligarch Roman Abramovich. He had accused the Chelsea football club owner of blackmail, breach of trust and breach of contract in relation to a Russian oil company. After the claims were dismissed, he was ordered by the high court to pay £35m of Abramovich's legal costs.

His financial difficulties were recently further exacerbated after his former mistress Elena Gorbunova, 43, claimed that Berezovsky owed her $8m (£5m) in compensation over the sale of their $40m residence in Surrey."
Just days ago, Berezovsky sold his Andy Warhol limited edition print of Vladimir Lenin, known as "Red Lenin," for just over $200,000, according to the Russian media outlet RIA Novosti.
---