'Puppet-master' Putin advisor is shown the Kremlin door
(Read article summary)
Vladislav Surkov was once one of the president's most influential and deft advisers. His forced resignation suggests the Kremlin may be pursuing blunter ways of manipulating the political landscape.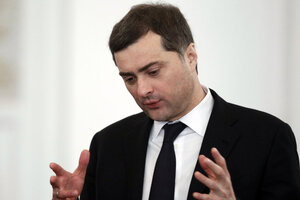 Sergei Karpukhin/Reuters
Vladislav Surkov, the former theater arts major who took on the job of stage-managing Russian democracy on behalf of Vladimir Putin, was abruptly shown the Kremlin door Wednesday. Most analysts see the move as a sign that an increasingly heavy-handed Mr. Putin has no further use for Mr. Surkov's elaborate and relatively gentle methods of manipulating the political landscape.
Surkov, an influential Putin advisor who helped sculpt Russia's so-called "sovereign democracy" system, told the Moscow daily Kommersant that he had tendered his resignation on April 26, but will only discuss the reasons for his departure "when it is appropriate."
Putin's spokesman, Dmitry Peskov, suggested to the Kommersant FM radio station that he had been pushed out the door due to poor job performance.
"[His resignation] is related to the high-priority task of implementing presidential decrees," Mr. Peskov said.
Often referred to as the "grey cardinal" of the Kremlin, Surkov's star had been falling since a massive protest movement hit Moscow streets in December 2011. It had been triggered by the near-universal allegations of electoral fraud committed by Surkov's own brainchild – the pro-Kremlin United Russia party – in parliamentary polls.
---