Friendly with the Dalai Lama? Good luck talking with Beijing
(Read article summary)
Meeting the Dalai Lama can have sharp diplomatic and economic consequences with Beijing, as Britain's Prime Minister Cameron, who wants to lead a trade mission to China, has found out.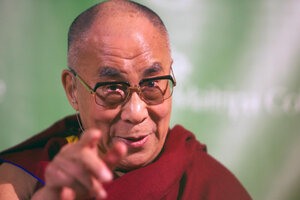 Motoya Nakamura, The Oregonian/AP
Prince Charles, heir to the British throne, has never had very good relations with the Chinese government. But now his personal envoy to Beijing is offering to help another British leader who seems to be even more firmly in the Chinese doghouse – Prime Minister David Cameron.
Mr. Cameron, who would dearly like to head a trade and investment mission to China, incurred Beijing's wrath last May by meeting the Dalai Lama. The fact that it was a private meeting, on sacred ground in St. Paul's cathedral, makes no difference. He will be persona non grata until he apologizes.
That status can be costly: A 2010 study by academics at the University of Gottingen in Germany found that countries whose top leadership received the Dalai Lama lost an average of 8.1 percent of their exports to China over the following two years, though the effect wore off after that punishment period.
---