Good Reads: From writer's block, to edible insects, to an unexpected nuclear leader
(Read article summary)
This week's roundup of Good Reads includes a remedy for writer's block, a call to eat insects, a growing culture of sharing, countering the false perception of Europe's decline, and a nuclear Kazakhstan.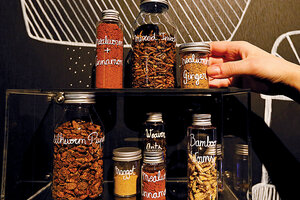 Kirsty Wigglesworth/AP
To face the blank page
What if writer's block or the moments between creative inspirations didn't bother us? What if they could be considered welcome moments or even essential to the game of creation? Most people don't experience writing in one fluid bout of perfection, anyway, writes Leni Zumas in the Spring 2013 issue of Good magazine. In an essay titled "Working the Hole," she investigates how to overcome those moments when "[t]he aversion to sitting down to write, or to staying at the desk, is fierce and physical, almost as if magnets were at work, rejecting each other."
Make use of your time in between bursts of inspiration by becoming a scavenger, Ms. Zumas says. Not in the carrion bird of prey way, but by practicing deliberate awareness. "In order to show readers the world in ways they may never have seen it before, the artist herself must practice being open to raw, unbridled perception," she writes. The only thing wrong with "the lacunae of inspiration," as Walter Benjamin once described writer's block, is how much we fear it.
Eat your insects
Lauren Alix Brown writes in Quartz that the United Nations Food and Agriculture Organization says it's time to get over it when it comes to the topic of eating bugs. Ms. Brown points out five reasons to follow through: (1) They're good for you, "grasshoppers have comparable levels of protein to raw beef...." (2) They're better for the environment. (3) It makes economic sense. The cost of raising insects is low, which is good for economic development. (4) They are less likely than livestock to transmit food-borne maladies like SARS. (5) Insects are everywhere, and many people already do eat them.
---