Good Reads: From women senators, to Appalachia's woes, to a shadow war
(Read article summary)
This week's round-up of Good Reads includes a look at the women Senators who reach across the bipartisan divide, lessons to be learned from Nelson Mandela's human failings and personal greatness, Appalachia's drug problem, Journalist's waning public favor, and America's war against Al Qaeda in the Philippines.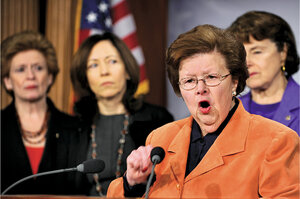 Mike Theiler/Reuters/File
Women in the Senate
Do women make better US senators than men? Jill Lawrence looks at that question, and the women of the Senate, in The National Journal. The 20 women of the Senate – 16 Democrats and four Republicans – may not always agree, but in an era of polarization, they demonstrate a remarkable commitment to collegiality. Nearly all say they bring collaborative problem-solving skills to the Senate.
As Ms. Lawrence chronicles, "there is plenty of evidence, in the form of deals made and bills passed, that women know how to get things done" in the Senate – by leveraging their caucus and through bipartisan, bicameral consensus-building. Now, after decades of hard-fought gains by pioneering women senators, traditional "women's issues" (such as health and education) are mainstream, making up roughly a third of the Senate docket. And women senators lead on key committees – budget, intelligence, and defense.
Lawrence writes that "there are too few [women in the Senate], and their arrival on the scene has been too recent, to draw any conclusions" as to whether they are more effective than their male colleagues. But their personal connections and the bills they champion point to a needed cooperation missing in Congress.
Mandela, the patriarch
In a commentary in South Africa's Mail & Guardian newspaper, Colleen Lowe Morna, founding chief executive of the country's Commission on Gender Equality under Nelson Mandela, writes, "If we are to learn from Mandela, we need to acknowledge that his gender legacy is chequered."
Mr. Mandela's journey from "old-school patriarch to a modern husband in his third marriage" – teaches about the evolution of gender equality as well as his humble commitment to personal growth. The same holds lessons for societal progress now – and for Mandela's feuding family, struggling with what Ms. Morna sees as the consequences of patriarchy.
---