Good Reads: From Normandy, to a Biden profile, to McDonald's 'Subway buster'
(Read article summary)
This week's round-up of Good Reads includes an essay on Normandy 1944, driving with (and interviewing) Vice President Joe Biden, a profile of Glenn Greenwald, the power of PBS sponsors, and what it takes to be a menu item at McDonald's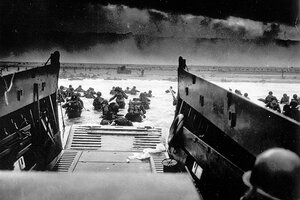 AP/File
New light on Normandy
"For more than any other human enterprise, war revealed the mettle of men's souls," writes Rick Atkinson in his latest book on World War II, which Foreign Affairs excerpts in its July/August issue.
What is most revealing in this 13-page essay, "The Road to D-Day," is the amazing level of detail that Mr. Atkinson musters to illuminate the oft-told tale of the preparations behind the historic crossing of the English Channel on June 6, 1944. For example, the men on whom so much depended were not large by today's standards: The typical soldier stood 5-feet, 8-inches tall and weighed 144 pounds. The troops were told they were the best paid in the world: A private earned $50 a month. A Medal of Honor winner would get $2 extra a month.
The essay is drawn from "The Guns at Last Light: The War in Western Europe, 1944-1945," the final installment of Atkinson's trilogy on the war, the first part of which won a Pulitzer Prize for history.
A revealing SUV ride with Biden
"I can die a happy man never having been president of the United States of America," Joe Biden tells Jeanne Marie Laskas in GQ's July issue. "But it doesn't mean I won't run," the vice president adds.
For that reason alone, it is worth reading Ms. Laskas's illuminating view of Mr. Biden's personality as he gives her a tour in his armored sport utility vehicle of his boyhood haunts in Wilmington, Del. As his friend former Sen. Ted Kaufman says in the piece, "For Joe, it all goes back to character – character coming from having really wonderful things happen to you, but also really awful things happen to you."
---