Good Reads: From lab-grown meat, to solar LED lamps, to Algebra II reconsidered
(Read article summary)
This week's round-up of Good Reads includes the case for growing meat with stem cells, Thailand's draconian defamation laws, Kazakhstan's new role in the war against terrorism, a lamp that is changing villages in Kenya, and why it really doesn't matter if you don't take Algebra II.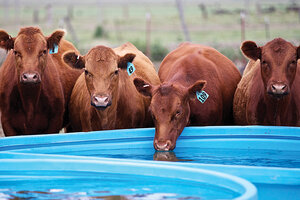 Thomas Boyd/The Oregonian/AP
It's no secret that Americans like to eat meat. And despite the fact that a growing number of scientists, doctors, environmentalists, and animal rights activists have warned that the overconsumption of meat is not healthy, sustainable, or good for the environment, the demand for meat hasn't let up (bacon cupcake fad, I'm looking at you). Fun fact: The average person in the United States eats about 270 pounds of meat a year, reports Laura June in The Verge.
But if Americans can't be convinced to go meatless in an effort to be gentler on the environment or kinder to animals, or to reach greenhouse-gas emission goals, perhaps they can change the way they get their meat, suggests Ms. June.
She writes about a process that is poised to shift the discussion on the environmental, health, and ethical issues surrounding farm animals: meat grown in a lab using stem cells. By using meat produced in a sterile environment, no animals are harmed and no land for grazing is needed. People who have tried a lab meat burger say it is tasty, healthy (zero fat), and indistinguishable from one made of animal meat. And lab-grown meat could be ready for grocery stores and restaurants within the next couple of decades.
Escape from Thailand
---