Good Reads: From a Van Gogh find, to undocumented students, to Web memory
(Read article summary)
This week's roundup of Good Reads includes a newly discovered masterpiece, a new approach to save disappearing languages, how spying on foreigners could hurt the US economy, a tale of arriving to the United States on a tire, and how Google has become a 'friend.'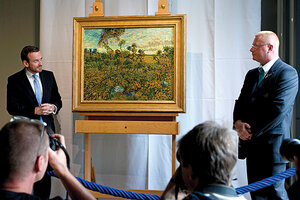 Peter Dejong/AP
A newly discovered painting by Vincent van Gogh went on display last month. "Sunset at Montmajour," painted in 1888, spent a century trapped in an attic. Now, the Van Gogh Museum in Amsterdam has embraced the work as genuine, turning what was long considered to be a fake into a potential multimillion-dollar find.
In the early 1900s, the painting changed hands from Van Gogh's sister-in-law to a Paris art dealer and then on to Norwegian industrialist Christian Nicolai Mustad. Mustad "purchased it in 1908 as a young man in one of his first forays into art collecting, but was soon told by the French ambassador to Sweden that it was a fake," writes Toby Sterling in a feature for The Associated Press. "Embarrassed, Mustad banished it to the attic."
This year, the Van Gogh Museum confirmed its authenticity through a combination of chemical analysis and researching the letters of Van Gogh, who described both the painting and the landscape it depicts.
Saving endangered languages
The same technology that allows Apple's Siri to recite movie times could also save dying languages. Of the 6,000 languages on earth, close to a third are in danger of disappearing.
"Some of them may only have a few hundred speakers – could be wiped out by a volcano, say, and that's happened before," says David Teeple in a video by The Verge. Mr. Teeple is a linguist for the text-to-speech software company Nuance.
---