Jesus misspelled, and other famous typos
(Read article summary)
Jesus misspelled as 'Lesus' in a new commemorative coin for Pope Francis. The 6,000 misspelled Jesus coins were recalled by the Vatican.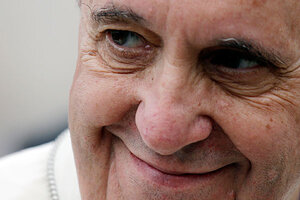 (AP Photo/Gregorio Borgia)
Copy editors the world over can empathize (and cringe) with this mistake.
The Vatican issued a recall this week because about 6,000 commemorative coins spelled the name "Jesus" as "Lesus."
The medallion celebrating Pope Francis includes a Latin phrase that reportedly once inspired the new pope to become a priest.
In English, the phrase reads: "Jesus therefore sees the tax collector, and since he sees by having mercy and by choosing, he says to him, follow me."
The BBC reports that these medals are struck when every new pope is elected and they provide a useful source of income for the Vatican, which is undergoing a major spending review under the leadership of Pope Francis.
The bronze, silver, and gold coins were priced at $108, $135, and $203 respectively.
But as a coin dealer told The New York Times, the flawed coins could be highly sought after by collectors.
"Regardless of what the Vatican decides to do now, it's an interesting purchase for a collector," Francesco Santarossa, owner of a numismatic and philatelic shop near St. Peter's Square in Rome, said in a phone interview. "I don't think they ever made such a mistake in the 600-year-long history of papal medals."
---