Good Reads: From investing in preschoolers, to moody America, to bogus peer review
(Read article summary)
This week's round up of Good Reads includes breaking the cycle of poverty at the preschool level, environmental challenges in Louisiana, the temperament of US regions, a tribute to Lou Reed, and the flaws of 'peer-reviewed' scientific papers.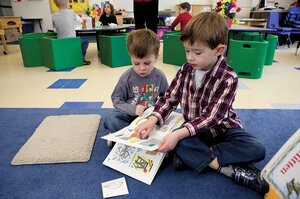 Melanie Stetson Freeman/Staff/File
While congressional brinkmanship has hijacked much of the national dialogue, one issue transcends party lines and could narrow the increasingly cavernous economic divide. Universal preschool is "the best tool we have to break cycles of poverty," Nicholas Kristof writes in a New York Times op-ed column.
"[T]his is one of those rare initiatives that polls well across the spectrum, with support from 84 percent of Democrats and 60 percent of Republicans in a recent national survey," Mr. Kristof reports.
"Look, we'll have to confront the pathologies of poverty at some point," Kristof argues. "We can deal with them cheaply at the front end, in infancy. Or we can wait and jail a troubled adolescent at the tail end."
The dirt on Louisiana
The 2010 Deepwater Horizon spill was not the first time Louisianians caught the sharp end of Big Oil's stick. Thanks to rich, natural, fossil fuel reserves and a cozy relationship between politicians and lobbyists, Louisianians have long lived, literally and figuratively, in the ash heap of the fossil fuel industry, Ken Silverstein writes in an article for Harper's Magazine.
"In 2011, the [Environmental Protection Agency] noted that Louisiana had been laxer than almost any other state about enforcing federal regulations, blaming 'a culture in which the state agency is expected to protect industry,' " he reports.
The industry-friendly regulatory culture has created a climate that supports reckless drilling with little regard for the effects on public health and the environment, Mr. Silverstein argues, citing well water that can power a lawn mower, crabs unfit for human consumption, and a 24-acre sinkhole.
---