Good Reads: From innovation, to Nigeria's terrorist struggle, to hot peppers
(Read article summary)
This week's roundup of Good Reads includes ranking the greatest innovations in modern life, Boko Haram's toll on Nigeria, a look at the patrol of the South China Sea, growing the world's hottest chili, and Kyrgyzstan's most-wanted man.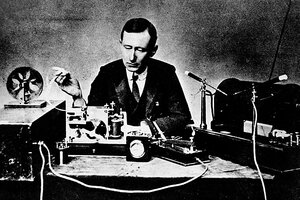 AP/FILE
What innovation since the wheel – created almost 6,000 years ago – has done the most to shape modern life? Maybe your list would include electricity, or the automobile. But what about sanitation systems, or cement?
In The Atlantic, James Fallows offers 50 answers, which he compiled with input from 12 engineers, technology historians, scientists, and entrepreneurs each giving 25 suggestions. Broad categories of innovation emerged, including innovations that expand human intellect (paper or photography), extend life (penicillin), and allow real-time communication (the Internet) and organizational breakthroughs (the Gregorian calendar and alphabetization), among others.
A majority of the contributors (10 of 12) suggested the top innovation on the list (the printing press), but the rankings are sure to stir debate about the sources and effects of innovation. For Mr. Fallows, he would rank innovations based on which one he would miss more if it didn't exist. Anesthesia (No. 46 in the list) would be in his top 10, at least higher than the personal computer, which is No. 16.
Boko Haram's toll on Nigeria
Reporting for National Geographic, James Verini paints a grisly picture of how Boko Haram – an Al Qaeda-linked terrorist group – has wreaked havoc in northern Nigeria, a region already struggling with ethnic and religious violence.
Mr. Verini says that Boko Haram's gravest toll on Nigeria is existential: "Boko Haram has become a kind of national synonym for fear, a repository for Nigerians' worst anxieties about their society and where it's headed," he writes. "Those anxieties touch on the most elemental aspects of Nigerian life – ethnicity, religion, regional inequities, the legacy of colonialism – and not least is the anxiety that Nigerian leaders are wholly incapable of facing this insurgency, indeed unwilling to face it, much less the social fissures beneath it."
---