Good Reads: From John Kerry's first year, to the cost of the poor, to political reporting
(Read article summary)
This week's roundup of Good Reads includes a look at John Kerry's first year as secretary of State, lessons from the island nation of Kiribati about global warming, how much government spending goes to the poor, protection for US media, and a reporter's view on covering Gov. Chris Christie.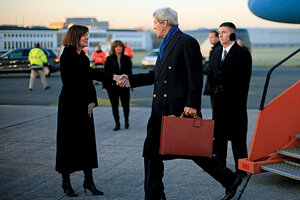 Pablo Martinez Monsivais/AP
Veteran foreign-policy reporter David Rohde, who landed one of his two Pulitzer Prizes while working for the Monitor, looks at John Kerry's first year as secretary of State in The Atlantic magazine.
While it is early in his term, Secretary Kerry's turn could end up outshining Hillary Rodham Clinton's time in Foggy Bottom, Mr. Rohde argues. "[I]t's looking more and more possible that when the history of the early-21st-century diplomacy gets written, it will be Kerry who is credited with making the State Department relevant again," writes Rohde.
The comprehensive article does not stint on cataloging Kerry's quirks, including what Rohde calls the "grandiosity and ambition that make Kerry so insufferable to some journalists and senators." But Rohde credits Kerry for being the driving force behind a flurry of diplomatic initiatives including reviving the Israeli-Palestinian peace process, brokering a deal with Russia to remove Syria's chemical weapons, and holding high-level talks with Iranian diplomats.
The global warming lessons from Kiribati
Some Americans still wonder if global warming is real, but not the residents of the island nation of Kiribati, where rising water levels are expected to force a mass evacuation in 20 years, according to a story in Bloomberg Businessweek by Jeffrey Goldberg.
---