Good Reads: From rethinking foreign aid, to homeless children, to privatized space
(Read article summary)
This week's roundup of Good Reads includes a new approach to foreign aid, an epic walk across the planet, the plight of homeless children in New York, how technology advances compassion, and the launch of private space rockets.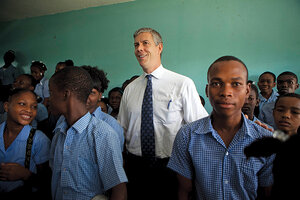 Dieu Nalio Chery/AP
What is the key to making foreign aid more effective and ending extreme poverty? According to Paul Farmer, a physician and anthropologist known for his work in Haiti, donors fail to adequately invest in improving local systems that ultimately bear the responsibility for implementing national aid.
"Despite agreements on aid effectiveness reached in Rome, Paris, Accra, and Busan over the last decade, 80 percent of aid from major bilateral and multilateral donors to fragile countries still bypasses the systems of local public institutions," Dr. Farmer writes in Foreign Affairs. "But the aspiration to improve the lives of those living in extreme poverty through better public health, public education, and public works by definition requires public-sector capacity."
Farmer points to post-earthquake Haiti as an example of how aid institutions fail to build local capacity. Less than 10 percent of funding went directly to the Haitian government, perpetuating a trap of dependency on foreign aid. For 2014, Farmer recommends that aid institutions instead focus on new ways to involve local partners in every step of project development in order to reduce the need for foreign assistance altogether.
Retracing early humankind's footsteps
Journalist Paul Salopek has almost completed one year of a seven-year journey: walking 21,000 miles to retrace the migration of Earth's early Homo sapiens. From the Great Rift Valley in East Africa to the tip of South America, he is following a trail that dates back at least 60,000 years.
Mr. Salopek described the first leg of his journey – crossing paths with nomads, asphalt highways, cities, and multimillion-dollar sugar production plants – for National Geographic, which is supporting his "Out of Eden Walk."
---