Haiti earthquake diary: Haiti's leaders speak, finally
(Read article summary)
President René Préval holds his first press conference after the quake. It's typically low-key and unassuming.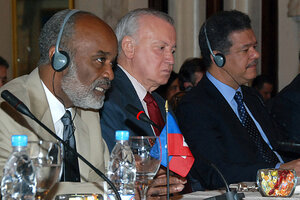 Manolo Medina/Dominican Republic Presidency/AP
Sunday, Jan. 17
I head down to this "government center" - the police station where Haitian officials are convening to run things - that Patrick Delatour, the minister of tourism, has told me about.
President René Préval has a reputation for being relaxed. The last time I did an interview with him, he came into the Yellow Room of the National Palace where we were waiting. After giving me a warm hug – I've known him long before he was in the Palace - he picked up the cameraman's tripod and carried it himself into his office, where a cabinet meeting was going on. He didn't want to make the ministers relocate so instead he just announced that he would temporarily suspend the meeting, do the interview with us, the Lehrer NewsHour, and then resumed after we left.
Who does that?! Just a few months ago, he called up my dentist friend Francoise, and made his own dental appointment. On one hand, it's great that Préval doesn't think he's better than anyone else. On the other hand, I would think the president of Haiti has other, more important, things to do.
Today, I've arrived in time for a presidential press conference. The venue redefines low key. It's what you might expect in a high school auditorium, only this is in the dusty courtyard in front of the old police station.
Préval appears in a short-sleeved, striped, button-down shirt and slacks, sits in a folding chair at a card table and introduces a representative of the Spanish government, Maria Teresa Fernández de la Vega, and the wife of the president of the Dominican Republic.
They talk about their commitment to Haiti. It's hard not to be cynical. But everyone is a friend to Haiti when there is trouble and they get the limelight. I just wonder when the lights are off, will they be good for their word?
---