Haiti earthquake diary: 'Your family is alive!'
(Read article summary)
To my surprise and delight, my earlier report of the demise of an entire Haitian family is 'greatly exaggerated.'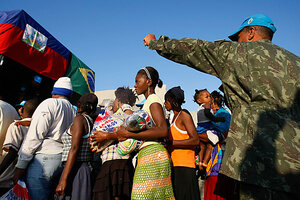 Ana-Bianca Marin/Reuters
Sunday, Jan. 17
A dear friend, Pulitzer Prize-winning author Edwidge Danticat, has sent me a text message from the States.
Her first cousin, Rev. Maxo Danticat, has not been heard of since the quake. But Edwidge's text says that that Maxo's baby is alive!
I'm speechless. And so happy. She says this gives her hope that maybe someone else in her family is alive. Wouldn't that be wonderful?
During one of my first days here, I'd visited the ruins of the family's home in Port-au-Prince's Bel Aire neighborhood and neighbors had told me the family was all dead. Calling Edwidge then with the tragic news was one of the hardest things I've had to do.
But maybe I was wrong. Maybe word of the family's death was greatly exaggerated.
I call and call for more information but can't get through. Cellphones still don't work. There's a Digicel, Comcel, and Voila vacuum.
So I head to Edwidge's ruined house in Bel Aire to see if I can find any information for her about the baby.
---