Haiti earthquake diary: The lives within the tent cities
(Read article summary)
There is an organized world within the tent cities that have cropped up all over Port-au-Prince since the Jan. 12 earthquake. I meet a young woman who gave birth the day of the earthquake and a boy who races a toy car he made from trash.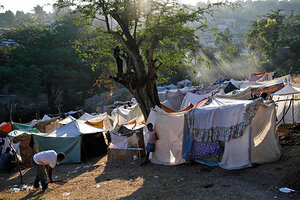 Rodrigo Abd/AP
Friday, Jan. 22
Stories about Haiti are dropping off the ABC network's lineup, so the TV crew I'm working with is starting to downsize. The big name anchors are, for the most part, either gone or slated to leave by Sunday. Our ABC nightly news story is cut from the schedule, fighting for time with John Edwards. Then it's back on the schedule, but competes with a dog being rescued from a flood. Huh? Not that I don't like dogs, but it's hard to feel empathy for man's best friend when outside my door thousands of people are living in tents, their lives buried somewhere between, beneath, or below enormous chunks of concrete.
There is an organized world within these tents. I meet a young woman who gave birth the day of the earthquake.
She lies on a piece of cardboard, a pile of clothes under her head, breastfeeding. It might have broken my heart last week, but now it's just one of a thousand things that I try not to let slow me down. If I stopped at every stall, talked to every person in the tent camp, the amount of suffering would drown me. Am I becoming hardened?
I remember, decades ago, I had said if I ever became immune to the poverty of this country that I should leave. I'm hoping I'm not immune, but I can't take this all in. It hurts too much.
A man with am American flag tied around his waist tells me to tell the world that he wants Haiti to be a protectorate of the US. He wants the US to treat Haiti like Puerto Rico, help it get its act together. Another man, alcohol on his breath, yells at a camera crew, tells them to go away.
---