Interpol arrests Anonymous hackers: Do they warrant the attention?
(Read article summary)
Anonymous hackers were allegedly preparing to shut down Chilean and Colombian government websites. But these attacks are like digital graffiti.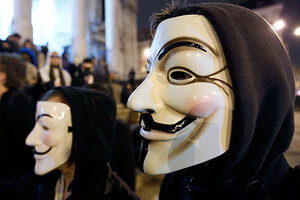 Yves Herman/Reuters
Yesterday, police coordinating through Interpol conducted a sweep of arrests in Europe and South America of 25 suspected hackers from the group Anonymous. The hackers were allegedly preparing to deface and to launch "denial of service" attacks against key government websites, such as Colombia's Ministry of Defense and presidential website, Chile's electric company Endesa, and Chile's national library. If found guilty, the accused hackers could face sentences of 541 days to five years in prison.
In retaliation, hackers briefly shut down the website of Interpol itself. Somewhere out there, a girl with a dragon tattoo is smiling, lopsidedly.
It all sounds very dramatic, and past website attacks by the Anonymous collective have been effective at getting a rather clever or satirical point across about what they see as the wrong-headedness of government policies.
But cyber-attacks of this sort against government websites are only a slightly higher-tech version of spray-paint attacks against a high-school wall. One wonders why Anonymous, or Interpol, even bothered.
---