The politics of meat and Muslims in election-year France
(Read article summary)
Conservative Marine Le Pen recently alleged that President Sarkozy had bowed to 'Islamic radicals.' It may be election-year gold, but restricting or demonizing Islamic practices could push disaffected youth toward those with radical agendas, says author Jonathan Laurence.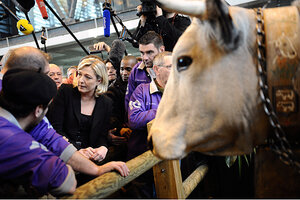 Zacharie Scheurer/AP
You know it's an election year in France when the far-right presidential candidate starts talking about meat and Muslims.
Marie Le Pen, leader of the National Front, recently alleged that French President Nicholas Sarkozy had bowed to "Islamic radicals," in particular about how Muslims butcher animals for consumption. Ms. Le Pen – who has often called for stricter immigration laws and warned about "creeping sharia (Islamic law)" in the past – argues that the influence of Muslim minorities was so strong that today all the meat available for purchase in Paris is "halal." According to cultural practices, Muslims only eat the meat of animals that have had their throats cut, allowing the blood to drain away.
"This situation is deception and the government has been fully aware of it for months," Le Pen said at a National Front rally in Lille. "All the abattoirs of the Paris region have succumbed to the rules of a minority. We have reason to be disgusted."
Whether Ms. Le Pen is right on the halal issue or not – President Sarkozy says she's wrong and that only 2.5 percent of the meat in Paris is either halal or kosher – her strong attacks against Sarkozy for being soft on France's Muslim community are an indication of how concerned Le Pen thinks French people are about immigration. And they are a window into a larger trend of unease in a recessionary Europe about how to deal with large Muslim minorities who initially came for temporary work, but ultimately stayed on, bringing their families and cultural practices with them.
---