Nigerian government ready for talks with Islamist group Boko Haram
(Read article summary)
But after a Boko Haram campaign that killed at least 1,000, and a government crackdown that killed the Islamist group's leader, there are questions as to what the two sides can discuss.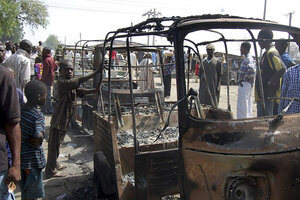 REUTERS
With yet another Nigerian school in flames, the Nigerian government seems ready to settle down to talks with the Islamist militant group Boko Haram.
The militant group, whose name means "Western education is a sin," has been on a three year long campaign of terror across northern Nigeria, attempting to abolish Nigeria's secular government and to impose Islamic sharia law in its place. More than 1,000 people have been killed by the militant group, including more than 300 since the beginning of this year alone.
In Abuja, the nation's capital, the federal government has reportedly accepted the recommendations of a parliamentary committee report, which identified the chief problems of the north as "massive unemployment of youths … existence of private militias … and weak governance and failure to deliver services in the wake of huge resources accruing to states and local governments."
Among the recommendations, according to the Nigerian website Myjoyonline.com is dialog with Boko Haram: "the Federal Government should fundamentally consider the option of dialogue and negotiation which should be contingent upon the renunciation of all forms of violence and surrender of arms to be followed by a rehabilitation programme on the side of government."
It may seem churlish to ask, but what will dialog achieve at this point?
The government captured and apparently executed Boko Haram's leader, Mohammad Yusuf, while he was in police custody after a 2009 government crackdown. Under new leadership, Boko Haram has reportedly received training in the use of suicide bombs at camps in Al-Shabab controlled Somalia, and has begun a campaign of suicide blasts, including the August 2011 car bombing of the UN headquarters in Nigeria's capital city, Abuja.
---