Blowback? Kenya pins Nairobi grenade attack on Somali Islamists
(Read article summary)
Kenyan police have arrested four people in Sunday's grenade attacks in Nairobi, which killed 7 people. Is it blowback for Kenya's military involvement in Somalia?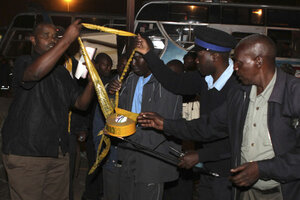 Noor Khamis/REUTERS
Kenyan police have arrested four people in connection with a grenade attack on Sunday at a crowded bus stand near Nairobi. The Kenyan government blamed the grenade blast – which killed seven people, and wounded more than 50 others – on Al Shabab, a Somali Islamist insurgent group that has openly aligned itself with Al Qaeda.
"Obviously we suspect this attack to be linked to Al Shabab, and we are going to pursue them within and into Somalia," said Kenyan Internal Security Minister George Saitoti.
Al Shabab spokesman Sheikh Abdulaziz Abu Musab did not directly confirm Al Shabab's involvement in the blast, but was quoted on Sunday as saying that Kenya and Al-Shabab are at war. Kenya has sent troops into Somalia to go after the militant group. A regional official with Al Shabab told Somalia Report that Al Shabab was indeed responsible for the attack.
Even though neighboring militaries have put Al Shabab on the run in Somalia, this latest attacks add to the group's claims that it can still hit back, even in the home countries of their enemies.
This is now the second major grenade attack in Kenya since Kenyan armed forces crossed the northern border into Somalia in mid-October 2011. The Kenyan troops are part of a four-pronged joint attack against Al Shabab, led by African Union peacekeeping forces in Mogadishu, Ethiopian forces, and a pro-government militia group called Ahlu Sunna wal Jamaa.
---