What's behind Russia's involvement in Syria and Iran? National interests.
(Read article summary)
Russia has spent political and real capital building alliances with Syria and Iran. It's not surprising that Moscow now wants to defend its allies' interests at the bargaining table.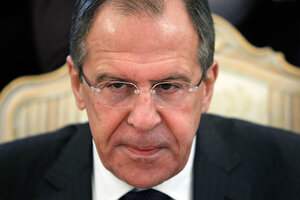 Misha Japaridze/AP
Remember when the world was simple and the US could just make decisions unilaterally?
Russia remembers those days too – from the fall of the Berlin Wall in 1989 until somewhere midway through the Iraqi war – and Moscow's foreign policy moves in the past few weeks are an indication that it wants those days to end.
In Syria, Russia has been a firm and reliable backer of President Bashar al-Assad's regime, boosting its military exports to Syria by some 600 percent over the past five years. Syria hosts Russia's only foreign military base in the Mediterranean city of Tartous. Russia has subsequently become a key player in determining whether Syria agrees to come to the negotiating table, and under what terms. Yesterday Russia indicated that it would back a mediation effort by United Nations special envoy to Syria Kofi Annan as long as it didn't include any nasty pre-conditions, such as forcing Mr. Assad to step down.
And in Iran – with whom Russia has close military and commercial ties – Russia has backed four rounds of UN sanctions, but warned that if the international community pushes Tehran too hard, and if Israel carries out threats of military strikes, then Iran will have no other recourse but to develop the very nuclear weapons that the West is so concerned about.
---