Good Reads: On America's limits, Middle Eastern feminism, Indian authors
(Read article summary)
Some of the best long-form journalism this week deals with America's foreign policy limitations, sexual politics in the Middle East, African stereotypes, and an Indian publishing boom.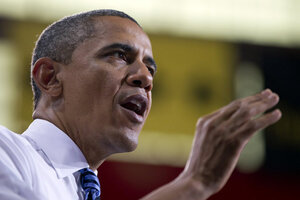 Carolyn Kaster/AP
America's limits
It's tempting, in an election year, to blame the sitting occupant of the White House with every unfortunate foreign trend. If the global economy stumbles, if conflicts brew, and if rogue states do roguish things, then it's seen as the president's fault. And sometimes it is.
But in a thoughtful piece in The Atlantic, Max Fisher writes that the post-cold-war world is much too complicated to take the direction of any other superpower, even one as charming, democratic, and fun-loving as the United States. The US can't rely on a common threat – say, the Soviet menace – or a common purpose – free-market capitalism – to bind nations together. That leaves the US with one remaining tool: persuasion.
"When U.S. interests line up with global interests, we suddenly become very effective at leading the world: isolating Iran, convincing Sudan to allow its southern third to secede, or curbing Chinese trade abuses, for example, would probably all have been impossible on our own. But they also wouldn't have happened without the U.S. taking the lead."
Studying Britain's darker past
While America's doomsayers need to calm down, Americans shouldn't go to the other extreme and assume that they are exceptional, or without fault. Indeed, Americans could save themselves a lot of pain by studying the histories of other former superpowers who once ruled the world.
---