What the French elections could mean for Afghan security
(Read article summary)
Newly elected French President François Hollande pledged to withdraw French troops by end of 2012. This will increase the burden on other NATO allies as Taliban fighting season begins.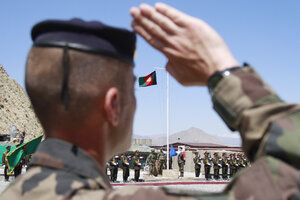 Ahmad Jamshid/AP
In France, voters have ushered out one of America's closest strategic allies and voted in a new president, François Hollande, who promised during the campaign to pull out France's remaining 3,500 soldiers from the NATO mission in Afghanistan by the end of 2012.
Afghan officials in Kabul put on a brave face at this news, saying that Afghanistan was ready to take on its own security arrangements. In any case, officials pointed out that there are many other NATO member nations in Afghanistan, and NATO isn't leaving anytime soon.
"For us, a NATO stance is more important than individual decisions by individual nations," Afghan Defense Ministry Spokesman Gen. Mohammad Zahir Azimi told Agence France-Presse. "And Afghanistan is well prepared to take over all security responsibilities in 2013."
Yet as the fighting season begins in Afghanistan, and as Afghans fret about their country's future once NATO forces pull out after 2014, the election of a French president who favors withdrawal is likely to be a troubling sign. And it is likely to give fellow NATO members such as the United States – which signed its own separate security compact with Afghanistan last week – a few new complications to sort out.
---