Pakistan pushback: US is 'shifting blame' for Afghan insurgency
(Read article summary)
In India, US Secretary of State Hillary Clinton asked Pakistan to do more in taking on radical Islamist groups, including handing over Hafiz Saeed, thought to have had a role in the 2008 Mumbai attacks.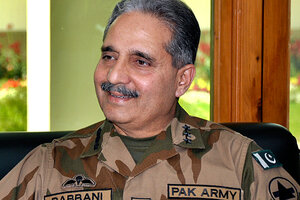 Mohammad Sajjad/AP
If nations had Facebook pages, then India and the United States would list their status as "in a relationship." Pakistan would write, "it's complicated."
In an interview with the Associated Press this weekend, Lt. Gen. Khalid Rabbani, the commander of the Pakistani Army's crucial Peshawar Corps, admitted that his country could do more to go after violent groups in his country, but complained that the US is scapegoating Pakistan for its own problems in Afghanistan.
"Why do they raise their fingers toward Pakistan? It is shifting the blame to others," General Rabbani told the AP. "Is Afghanistan free of Taliban? It has hundreds of thousands of them."
The interview comes as US Secretary of State Hillary Clinton visits New Delhi to confirm aspects of the growing US strategic partnership with India over global trade, security matters, and how to wean India off of Iranian oil.
---