Good Reads: on the politics of language, Genghis Khan, and the Beastie Boys
(Read article summary)
This week's reading list includes a book review on how we use and abuse language, leadership tips from Genghis Khan, and a tribute to the late hip hop master and peace activist, Adam Yauch.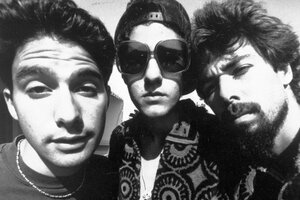 Capitol Records/AP/File
Nobody likes a language snob.
This is the person who corrects you in mid-sentence when you make a mistake. "Mr. President," he shouts, at a press conference, "when you say 'misunderestimate,' do you perhaps have another word in mind?" And everyone laughs at you, for days.
Language snobs are everywhere, even in France, where they even have an "Académie française," was designed to define, protect, and regulate proper French grammar and usage. In the English-speaking world, language snobs write dictionaries that practically frown at you when you can't remember the difference between "parameter" and "perimeter." (The first is a mathematical term for a constant in an equation; the second refers to a boundary. Trust me, I looked these terms up in a dictionary.)
It's easy to ridicule the language snobs, as Robin Williams did in his "rip it out" scene in the Dead Poet's Society.
But here's the thing about language snobs: They are oddly egalitarian. While language snobs might giggle at people who choose the wrong words or who make grammatical mistakes, their underlying premise is that there are universal rules for language. Learning to use those rules is the ultimate ladder to success, integration, and acceptance.
In this week's New Yorker, book critic Joan Acocella writes about the ongoing debate between language snobs (or "prescriptivists," as they apparently prefer to be called) and "descriptivists," who believe that "all we could legitimately do in discussing language was to say what the current practice was." Ms. Acocella is definitely in the prescriptivist camp, and when she reviews the new book "The Language Wars: A History of Proper English," by Henry Hitchings, a descriptivist, you know you are in for a good fight.
---