Kony hunt: Ugandan army captures senior LRA commander
(Read article summary)
The capture of Caesar Acellam, the fourth highest commander under the LRA's Joseph Kony, is a huge boost in the effort to end a 20-year rebellion that has killed thousands.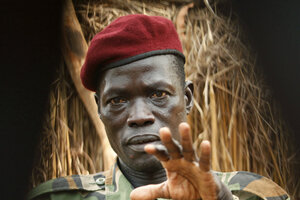 James Akena/REUTERS
Ugandan troops have captured a senior commander of the rebel group the Lord's Resistance Army, a group that has led a bloody rebellion against the Ugandan government for more than 20 years and gained international notoriety with the recent "KONY2012" viral video.
Caesar Acellam is thought to be the fourth highest commander in the LRA, under Joseph Kony. At the time of his capture on Saturday morning, he appears to have split away from a larger group of LRA fighters, apparently over a dispute. He had just one AK-47 rifle and eight rounds of ammunition, and was accompanied by his wife, a daughter, and a helper.
"The arrest of Major General Caesar Acellam is big progress because he is a big fish," said Felix Kulaigye, the Ugandan army spokesman, at a press conference announcing Mr. Acellam's capture. "His capture is definitely going to cause an opinion shift within the LRA."
The capture of Acellam (the spelling of his name confirmed by the AFP's Max Delany, who also writes for the Monitor) is a huge success for the Ugandan-army-led operation against Mr. Kony's LRA, which has killed and maimed thousands, conscripted at least 60,000 child soldiers, and displaced as many as 2 million people over the past 20 years. Originally started as a rebellion of the northern Ugandan Acholi people against the southern-dominated government of President Yoweri Museveni, the LRA turned into a proxy militant group for hire, whose current mission seems to be simple survival.
Uganda's army, the Ugandan People's Defense Force is backed up in its anti-LRA operation by 5,000 troops from South Sudan, the Central African Republic, and the Democratic Republic of Congo. The United States has contributed 100 Special Operations Forces as trainers in counterinsurgency and communications, as well as access to spy aircraft with the capability of sensing rebel troop movements under jungle canopy.
A blow to LRA's resolve?
Quoted by Mr. Delany of the Agence France Presse, Acellam predicted that his "coming out" would weaken the resolve of the few hundred LRA members still in the bush with Kony.
---