With Crocker's exit, a chance for a new approach to Afghanistan
(Read article summary)
Ambassador Ryan Crocker announced he is stepping down as the US ambassador to Afghanistan.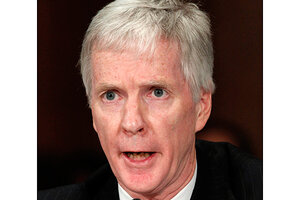 J. Scott Applewhite/AP/File
This July, when Ryan Crocker steps down as US ambassador to Afghanistan – a year earlier than planned, because of health reasons – the baton of American foreign policy will be passed along to a new envoy charged with what must easily be the most difficult diplomatic job in the foreign service.
Mr. Crocker's successor will have to manage both the personal and institutional relationships between two countries who will slowly part ways, as the US military begins to withdraw 90,000 troops from bases in Afghanistan, and as the Afghan government rises up to take on the responsibilities of its own security, development, and governance.
Crocker's past year as ambassador was not an easy one. Afghan soldiers have begun killing their US, French, and British trainers. NATO airstrikes on civilians, NATO burnings of Qurans, and the deliberate burning of Qurans by a Florida preacher have all strained the US-Afghan relationship, leading to protests on Afghan streets, and heated meetings between governments.
---