Good Reads: Why nations fail, and how we overlook some successes
(Read article summary)
This week's reading list includes a close look at why nations fail, how Africa is booming, why Greece's default won't be such a tragedy after all, and how Facebook's IPO is a warning bell.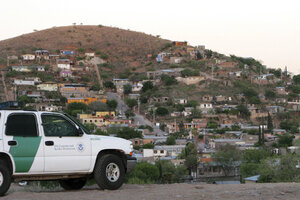 John Russell/REUTERS/File
Why Nations Fail
We do it as individuals, and we do it as nations: We compare.
Some people and nations succeed, while others fail, and the writer who discovers the formula for why some peoples fail can write a successful book to prevent the rest of us from making those same mistakes.
The latest such book, "Why Nations Fail," by Daron Acemoglu and James Robinson, offers a number of case studies, comparing Nogales, Ariz., and its sister city of Nogales, Mexico, and finds that societies that have developed good institutions of governance generally prosper more than those run by patronage systems.
Who better to assess this book's worth than Jared Diamond, author of the best-selling books "Guns, Germs, and Steel," and "Collapse." In this week's New York Review of Books, Mr. Diamond dusts off a few of his theories on how geography and climate have a lot to do with why certain temperate societies of northern Europe and east Asia succeed, while many of those in tropical regions such as central America and sub-Saharan Africa lag behind. In "Why Nations Fail," he finds a lot of theories to like.
---