Good Reads: a few tips about how to stay off Obama's 'kill list'
(Read article summary)
This week's best reads include an investigation into how the Obama administration chooses targets for drone attack, a stirring defense of dictator intelligence, and a scientific explanation of optimism.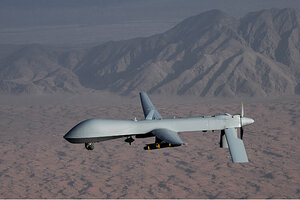 Courtesy of Lt Col Leslie Pratt/U.S. Air Force/Reuters
Obama's 'kill list'
Few weapons have changed the nature of warfare in recent years as much as the Unmanned Aerial Vehicle, also known as a drone. Virtually unheard of a decade ago, it has become the weapon of choice for the Obama administration, both for surveillance of suspected terrorists and for their elimination.
The New York Times' Jo Becker and Scott Shane have written a lengthy investigative piece, backed up with interviews of current and former Obama administration officials, looking into the legality and the many uses of drones and how the Obama administration learned to love the drone. Whether drones make the world safer, of course, depends on your definition of safe. But for now, much of the debate centers on whether drone use is legally or morally defensible.
Fans of this article have pointed out how the White House team decides who is a "legitimate target," and the article says Obama's legal team "… in effect counts all military-age males in a strike zone as combatants…."
Counterterrorism officials insist this approach is one of simple logic: people in an area of known terrorist activity, or found with a top Qaeda operative, are probably up to no good. "Al Qaeda is an insular, paranoid organization — innocent neighbors don't hitchhike rides in the back of trucks headed for the border with guns and bombs," said one official, who requested anonymity to speak about what is still a classified program.
---