Good Reads: How India failed to live up to its hype
(Read article summary)
This week's best reads deal with India's economic disappointment, Germany's problematic switch from nuclear energy, Al Qaeda, and the Great Un-American Western.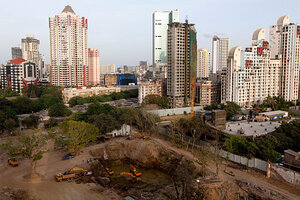 Rajanish Kakade/AP
The Great Indian Hype Machine
Hype is a powerful thing. It prompts us to pick up "great" novels, download "earthshaking" albums, or buy shares in a company destined to "change the world."
Hype is also used to sell countries like India as "emerging regional players" or "economic tigers," and according to this week's Economist magazine, India has failed to live up to its billing.
India's growth of only 6 percent, down from it's goal of 8 percent growth, shows India has failed "to live up to rising expectations," says Jim O'Neill, the Goldman Sachs analyst who coined the term "BRIC" for the quartet of emerging nations Brazil, Russia, India, and China. And it's a growth level that could prevent India from lifting more of its citizens out of poverty.
This week's Economist magazine says that hype may have been the problem all along. India seems to have believed its own hype – that it was "destined for fast growth" – when, in fact, there was still a great deal of hard work to be done to loosen up governmental controls on the economy so that it could actually grow. Now that the economy has slowed down to 6 percent, foreign investors and Indian citizens alike are starting to lose faith.
---