Japan nerve gas fugitive: hiding in plain sight
(Read article summary)
For many international fugitives, from Serbian General Ratko Mladic and Carlos the Jackal to Congolese warlord Bosco Ntaganda, the place to hide is in an open, urban setting.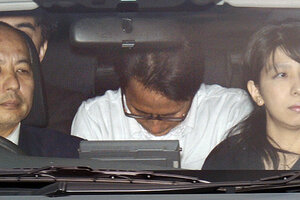 Kyodo News/AP
It is a time-tested fact for police: Many criminals hide in plain sight.
This week, Katsuya Takahashi, the last of the fugitive suspects in the Aum Shinrikiyo religious cult sarin-gas attack on the Tokyo subway system, was arrested in Tokyo after spending much of his time living in the city of Kawasaki, just south of Toyko. He had changed his name and taken a job as a construction worker.
Mr. Takahashi had been quite clear that he wanted to stay away from Tokyo itself, where there were too many cops. But he also wanted to stay away from villages, where he would stand out as an outsider. Better to blend into the anonymous city.
"I don't want to take any chances of being caught. We should mix in with urban crowds, rather than living in a rural area," Takahashi told fellow fugitive Naoko Kikuchi, according to a piece by Monitor correspondent Tom A. Peter. "But we should avoid Tokyo, as there are too many police officers and security cameras." Japanese police arrested Ms. Kikuchi just two weeks before tracking down Takahashi.
While some international fugitives hide out in dark mansions (Osama bin Laden), dense tropical forests (Joseph Kony, the Ugandan militia leader), or dusty holes (Saddam Hussein and, briefly, Muammar Qaddafi), many find that their greatest protection is in the company of strangers. Big cities, with their large volumes of pedestrians and apartment dwellers, lend themselves to criminals who are able to alter their appearance and get a job.
---