Typhoon Megi hits Taiwan, causes rockslides
Typhoon Megi, after wreaking havoc on the Philippines, neared Taiwan. Rockslides blocked roads and stranded travelers after Megi hurled winds at 100 miles per hour across the island nation.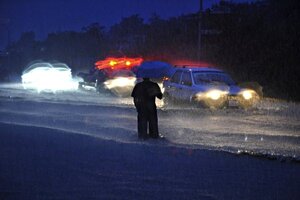 AP
Officials say Typhoon Megi has brought heavy rains to northeastern Taiwan, triggering massive rockslides on a coastal highway that have trapped as many as 400 travelers.
The Defense Ministry says soldiers are trying to remove the rocks to get to the trapped travelers on the highway in Ilan County, about 90 miles (150 kilometers) southeast of the capital, Taipei. It said Friday that none of the people, including 235 tourists from China, are injured.
The Central Weather Bureau says Megi dumped a record high 40 inches (1,000 millimeters) of rain in Ilan on Thursday.
It says Megi is moving north through the Taiwan Strait. It says the typhoon is packing winds of 100 miles (160 kilometers) an hour and expected to make landfall Saturday in southeast China.
[Editor's note: The original version for this story incorrectly stated that Typhoon Megi made landfall in Taiwan.]
---
Follow Stories Like This
Get the Monitor stories you care about delivered to your inbox.