Hurricane Richard sputters over Belize, heads toward Mexico
Hurricane Richard did no major damage to Belize as it weakened into a tropical storm. It is moving into southeastern Mexico.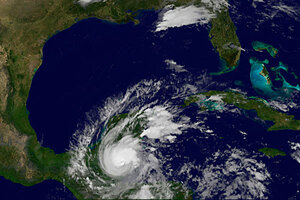 NASA/AP
Hurricane Richard was downgraded to a tropical storm Monday as it moved across northern Guatemala and southeastern Mexico after battering Belize.
The storm was expected to further weaken to a tropical depression before it enters Mexico's Bay of Campeche on Monday night or early Tuesday, the U.S. National Hurricane Center said. The bay produces more than two-thirds of Mexico's 2.6 million barrels-per-day of crude output.
The storm, packing maximum sustained winds of 65 miles per hour, was centered about 170 miles southeast of Campeche, Mexico, at 4 a.m. CDT. It was moving west-northwest at 12 mph.
The storm would likely not strengthen again once it enters the Gulf of Mexico at the Bay of Campeche, the Miami-based hurricane center said.
Mexico's state oil company, Pemex, said it was watching the storm but had not evacuated any workers from its offshore platforms. Vessels continued to service the platforms late into Sunday night, Pemex said.
"We're still operating normally and monitoring (the storm)," a Pemex spokesman said.
In September, Hurricane Karl forced a brief shutdown of 14 minor Mexican wells in the Gulf, with no significant impact on production.
Most computer forecasting models suggest the storm would steer clear of major oil installations in the U.S. Gulf.
---