Dick Cheney to be charged in $180-million Halliburton bribery case
Dick Cheney, former US vice president, will be charged Thursday by Nigerian anti-corruption police in a case against Halliburton.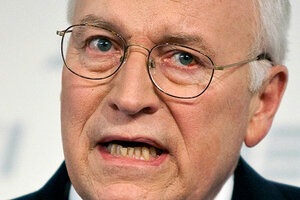 Joshua Roberts/REUTERS/FILE
Nigeria's anti-corruption police said on Thursday they planned to file charges against former U.S. Vice President Dick Cheney in a $180 million bribery case involving a former unit of oil services firm Halliburton.
The Economic and Financial Crimes Commission (EFCC) on Tuesday summoned the country chief of Halliburton and last week detained 10 Nigerian and expatriate Halliburton staff for questioning after raiding its Lagos office.
"We are filing charges against Cheney," EFCC spokesman Femi Babafemi told Reuters, but declined to give any further details on what the charges were, or where they would be filed.
Houston-based engineering firm KBR, a former Halliburton unit, pleaded guilty last year to U.S. charges that it paid $180 million in bribes between 1994 and 2004 to Nigerian officials to secure $6 billion in contracts for the Bonny Island liquefied natural gas (LNG) project in the Niger Delta.
---