Ivory Coast opposition wants President Gbagbo ousted by force
Ivory Coast opposition leader and internationally recognized President-elect Alassane Ouattara urged international bodies to force Laurent Gbagbo from the presidency.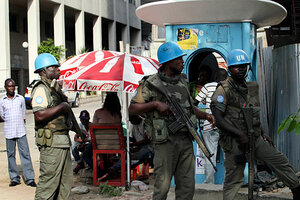 Sunday Alamba/AP
A top opposition figure called Wednesday for the international community to use force to oust Laurent Gbagbo from the presidency after the disputed election, as France urged its citizens to get out amid growing fears of civil war.
The United Nations and other world leaders recognize Alassane Ouattara as the winner of the Nov. 28 runoff vote. His prime minister, Guillaume Soro, urged the UN, European Union, African Union and others to consider intervening to push Gbagbo out.
"It is obvious that there is one solution left — that of force," Guillaume Soro told France's i-tele television channel. He added that "200 people have been killed by the bullets of Liberian and Angolan mercenaries" in Ivory Coast but he did not elaborate and the numbers could not immediately be confirmed.
The UN said Sunday that at least 50 people have been killed in Ivory Coast in recent days, and the UN chief also has expressed concern about the recruitment of fighters from neighboring Liberia.
---