Somali pirates capture oil tanker bound for US: Higher oil prices ahead?
Somali pirates took control of an oil tanker from Kuwait carrying $200 million worth of crude. It's the second oil-tanker hijacking by Somali pirates in two days.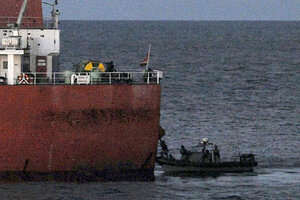 Arabian Navy via Yonhap/aP
Suspected Somali pirates captured a U.S.-bound tanker carrying around $200 million worth of crude oil in the Indian Ocean on Wednesday in one of the biggest hijackings in the area so far.
The Irene SL, the length of three soccer pitches and with 25 crew members on board, was carrying about 2 million barrels of oil, or nearly one fifth of daily U.S. crude imports.
The hijacking came a day after an Italian tanker carrying oil worth more than $60 million was snatched by Somali pirates, reinforcing industry fears that the piracy scourge is "spinning out of control".
RELATED: Top 5 high profile hijackings by Somali pirates
"This morning the vessel was attacked by armed men," the Irene SL's Greece-based manager Enesel said. "For the moment there is no communication with the vessel."
Commander Susie Thomson, spokeswoman for the multinational Combined Maritime Forces fighting piracy in the area, said the 333-metre tanker was hijacked 220 miles off Oman and was likely to have been attacked by Somali pirates. "We can only speculate as to where the ship is being taken."
---
Follow Stories Like This
Get the Monitor stories you care about delivered to your inbox.