Plutonium found in soil near Fukushima plant
Plutonium has been found in low quantities in the soil around the stricken Fukushima nuclear power plant as public dissatisfaction with officials continues to percolate.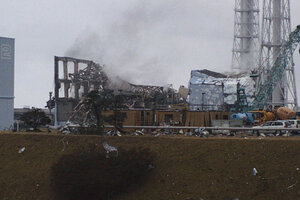 Tokyo Electric Power Co./AP
Plutonium found in soil at the crippled Fukushima nuclear complex heightened alarm on Tuesday over Japan's protracted battle to contain the world's worst atomic crisis in 25 years.
In parliament, Japanese Prime Minister Naoto Kan was lambasted for his handling of the disaster, which was triggered by a massive earthquake and tsunami that slammed into the coastline north of Tokyo.
Already deeply unpopular, Kan assured angry lawmakers that that the government was making public all the information it had to hand and he apologised for flying over the stricken site one day after the quake, which media reports said had delayed crucial operations to cool the reactors.
Opposition MP Yosuke Isozaki blasted Kan for not ordering evacuation from a zone 20-30 km (12-19 miles) beyond the nuclear plant, asking "is there anything as irresponsible as this?".
Kan said the government was seeking advice on whether to extend the zone beyond its current perimeter of 20 km.
The drama at the six-reactor facility has compounded Japan's agony after the double disaster left more than 28,000 people dead or missing in the devastated northeast.
PLUTONIUM LEVELS NOT HARMFUL
Plant operator Tokyo Electric Power Co (TEPCO) said the plutonium -- a by-product of atomic reactions and also used in nuclear bombs -- had been found at low-risk levels in five places at the plant, hit by a March 11 quake and tsunami.
---