Silvio Berlusconi promises evacuation of migrants from island
Silvio Berlusconi promised to evacuate North African migrants that overwhelmed a small Italian island near Tunisia and Libya. 18,000 African migrants began living in tent communities on the island after political turmoil in Tunisia and other northern African countries erupted earlier this year.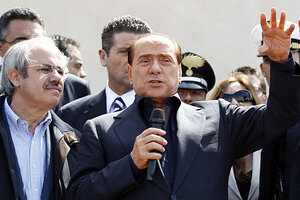 Tony Gentile/Reuters
Premier Silvio Berlusconi promised Wednesday to quickly evacuate the thousands of North African migrants who have overwhelmed the tiny Italian island of Lampedusa, earning cheers from residents exasperated by the arrivals.
A Navy ship and a commercial ferry arrived in the morning, and at least three more were expected throughout the day to pick up the migrants, said Cosimo Alessandro Nicastro, commander of the Italian Coast Guard. The ships will move some to temporary shelters elsewhere in Italy.
"Within 48 to 60 hours Lampedusa will be inhabited only by Lampedusa residents," Berlusconi said.
The premier was on his first visit to the island since the migrant crisis broke in January as unrest spread across North Africa. Since, then, some 18,000 migrants, mostly Tunisian, have arrived on the island, overwhelming the local immigrant center, outnumbering the island's local population, and forcing many to sleep in makeshift tent camps or in fields as they wait for transfers.
"The migrants who arrive on the docks of Lampedusa's port will be immediately put on boats for other destinations," either back to Tunisia or detention centers elsewhere in Italy, Berlusconi told a news conference.
Those ineligible for political asylum or without jobs awaiting them in Italy are given deportation orders.
Berlusconi said that ships on their way had a capacity of as many as 10,000 passengers, and vowed that future arrivals wouldn't be left to linger on the island for days.
The government is counting on pledges by Tunisia to increase patrols of its ports and coastline and to take back at least some of the migrants, Berlusconi said.
---