Air France Flight 447 wreckage (but no black box) found in Atlantic
Air France Flight 447 plunged into the ocean en route from Rio to Paris, killing all 228 passengers and crew. The latest search found a section of the aircraft, including bodies, and raised hopes that the black boxes will be found to explain what happened.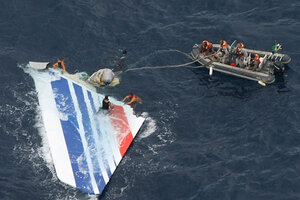 Brazil's Air Force/AP/file
Parts of the wreckage of an Air France plane found in the Atlantic at the weekend contain the bodies of some of the passengers who died when the aircraft crashed off Brazil in 2009, the French government said on Monday.
Air France flight 447, an Airbus 330-203 plane, plunged into the ocean en route from Rio to Paris, killing all 228 passengers and crew on board and a long search has so far failed to find flight recorders that could give clues to the cause of the accident.
The latest search, the fourth since the crash, is being carried out using a salvage vessel equipped with unmanned submarines. An initial underwater search had also found parts of wreckage and bodies.
TAKE THE NEWS QUIZ: Week of April 2, 2011
France's BEA accident investigation authority said on Sunday it had found a large part of the plane's wreckage including the engine and parts of the fuselage, and Environment Minister Nathalie Kosciusko-Morizet said on Monday there were human remains inside.
"We have more than just traces, we have bodies... Identification is possible," she told France Inter radio.
Transport Minister Thierry Mariani said victims' families would be informed of the findings at a meeting at the end of the week and no further details would be made public before then.
"It's true that bodies have been seen, but given the sensitive nature of the subject we prefer to keep certain details for the families," he told France Info radio.
---