Bin Laden wives found in compound, one used as human shield
Bin Laden wives: During the night attack on Osama bin Laden, one of his wives was reportedly used as a human shield to protect bin Laden from US commandos' fire.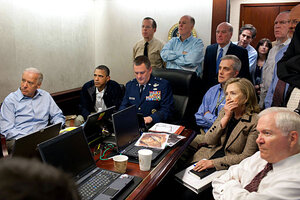 Pete Souza/The White House/AP
Monitor editor's note - May 4: New facts have emerged on this story. A Monitor update can be read here.
One of Osama bin Laden's wives stood between him and U.S. Navy SEALs as the world's most-wanted terrorist was gunned down in an airborne assault on the al-Qaida leader's safehouse deep in Pakistan. He was holed up less than a mile (1.6 kilometers) from the country's military academy and not far from the capital of Islamabad.
Details emerged Monday of the life and dramatic death of bin Laden, the day after President Barack Obama made the stunning near-midnight announcement that the al-Qaida leader had been killed.
Obama, while assured bin Laden probably was in the compound, did not know with certainty that the 10-year hunt for the notorious son of a Saudi Arabian construction magnate was at an end until his body was carried to one of four U.S. Special Operations helicopters that had ferried in the American force deep inside Pakistan. One of the craft was damaged on landing and blown up before the return journey to Afghanistan.
On Monday the president said the terrorist mastermind's death was "a good day for America."
The administration said DNA testing administered on the body before it was buried at sea from the deck of the USS Carl in the North Arabian Sea confirmed the man killed was indeed bin Laden.
---