Iceland volcano eruption larger than last year's, closes airport
Iceland volcano: the eruption of an Iceland volcano, Saturday, is larger than last year's Eyjafjallajokull eruption that shut down air travel in Europe.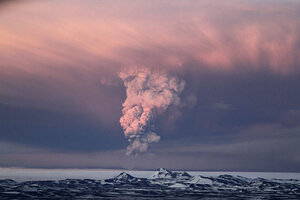 Jon Gustafsson/AP
Iceland closed its main international airport and canceled all domestic flights Sunday as a powerful volcanic eruption sent a plume of ash, smoke and steam 12 miles (20 kilometers) into the air.
The eruption of the Grimsvotn volcano was far larger than one a year ago at another Icelandic volcano that upended travel plans for 10 million people around the world, but scientists said it was unlikely to have the same widespread effect.
University of Iceland geophysicist Magnus Tumi Gudmundsson said this eruption, which began Saturday, was Grimsvotn's largest eruption for 100 years.
"(It was) much bigger and more intensive than Eyjafjallajokull," the volcano whose April 2010 eruption shut down airspace across Europe for five days, he said.
"There is a very large area in southeast Iceland where there is almost total darkness and heavy fall of ash," he said. "But it is not spreading nearly as much. The winds are not as strong as they were in Eyjafjallajokull."
He said this ash is coarser than last year's eruption, falling to the ground more quickly instead of floating vast distances.
The ash plunged areas near the volcano in southeast Iceland into darkness Sunday and covered buildings, cars and fields in a thick layer of gray soot. Civil protection workers urged residents to wear masks and stay indoors.
Iceland's air traffic control operator ISAVIA said the Keflavik airport, the country's main hub, closed down at 0830 GMT (4:30 a.m. EDT) for the day.
---