Obama's British codename: Is it an insult?
Scotland Yard gave President Obama the codename of "chalaque" during his visit to Britain. The Daily Mail says it's a derogatory term in Punjabi. Asra Nomani's grandmother confirms it's not a nice term in Urdu or Hindi either.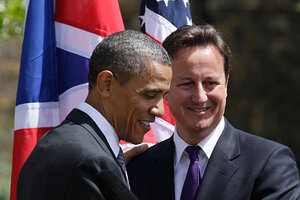 Carolyn Kaster/aP
By Asra Q. Nomani
Before President Obama's arrival in London, The Daily Mail ran a story under the headline "Codename 'smart alec': British police label Obama with 'mildly offensive' Punjabi word for visit to U.K." Scotland Yard says its computers randomly picked a codename for Obama, "chalaque," for his visit to the country. But the newspaper quoted a Sikh community leader saying the name is often used to "denigrate" someone. Yahoo News then picked up the story, featuring it on its homepage under the headline: "Obama Code Named 'smart alec' in Britain."
As someone who grew up hearing chalak used to describe someone who is a notch below diabolical, I had to laugh. The West may try to assert cultural prowess economically, militarily, and diplomatically, but Obama's codename is yet another example of cross-cultural communication lost in translation.
---