Deadly bombing causes damage at Norwegian government offices in Oslo(VIDEO)
Oslo authorities say at least one bomb exploded in or near buildings that house the Norwegian prime minister's and other government offices on Friday, killing at least two and injuring 15.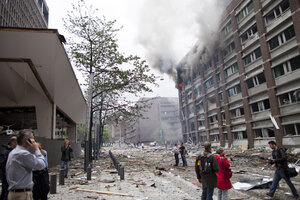 Thomas Winje Øijord, Scanpix, Norway/AP
A powerful bomb tore into the heart of Norway on Friday, killing at least two people and injuring 15 as it ripped open buildings including the prime minister's office. Is was the deadliest bombing ever in Oslo, normally associated with the Nobel Peace Prize that is awarded there.
Prime Minister Jens Stoltenberg was working at home Friday and was unharmed, according to senior adviser Oivind Ostang.
The square where the bomb exploded was covered in twisted metal and shattered glass, and carpeted in documents expelled from the surrounding buildings, which house government offices and the headquarters of some of Norway's leading newspapers. Most of the windows were shattered in the 20-floor high rise where the prime minister and his administration works.
Oslo police said the explosion was caused by "one or more" bombs, but declined to speculate on who was behind the attack. They later sealed off the nearby offices of broadcaster TV 2 after discovering a suspicious package.
"So far, police cannot say anything about the scope of the damage, aside from that there's been one or several explosions," a police statement read.
An AP reporter who was in the office of Norwegian news agency NTB said the building shook from the blast and all employees evacuated as the alarm went off. Down in the street, he saw one person with a leg injury being led away from the area.
Public broadcaster NRK showed video of a blackened car lying on its side amid the debris.
---