Wang Meng: China's most decorated Olympic medalist expelled for brawl
Wang Meng, who has won five medals for China in recent Olympics, has been expelled from the short track speed skating team. Wang Meng reportedly attacked her manager in a confrontation after breaking curfew.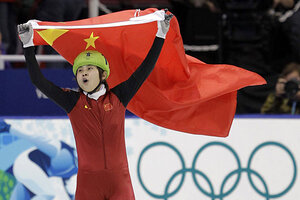 David J. Phillip/AP/File
China's most decorated Winter Olympic athlete has been expelled from the national team for a drunken brawl with an official, throwing the successful short track speed skating program into disarray.
Wang Meng went out drinking and failed to return to the team hotel before a curfew, China's sports governing body said in a statement released late Thursday. When she was confronted by the team manager WangChunlu, she punched her, it said.
The 26-year-old Wang was expelled from the national team and banned from international competitions because her conduct "has violated the team's disciplines and jeopardized the sport's image," China's General Administration of Sport said in the statement.
Wang, who won three golds at the Vancouver Games last year, and one gold, a silver and a bronze at Turin, Italy, in 2006, had been suspended since the incident during a summer training camp in the eastern Chinese city of Qingdao on July 24.
China's General Administration of Sport said male speed skater Liu Xianwei also assaulted the team manager and damaged hotel property, and had also been expelled.
The other four squad members — Zhou Yang, Liu Qiuhong, Han Jialiang and Liang Wenhao — were allowed to keep training with the national team.
China's Xinhua news agency reported that Wang accidentally cut her hands on glass and needed dozens of stitches after the incident.
---