Lockerbie bomber case may reopen with new Libyan government
Lockerbie bomber: the US is calling for the Libyan transitional government to look at the Lockerbie bomber case while Abdel Baset al-Megrahi reportedly fades in and out of consciousness.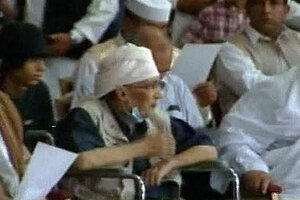 Reuters TV via Al Jamahirya/File
The Obama administration has asked Libya's opposition to review the case of the ailing former Libyan intelligence agent convicted of the Lockerbie bombing who has been living in Tripoli since his release from a Scottish prison two years ago, the State Department said Monday.
The department said it wants the opposition to look into the handling and terms of Abdel Baset al-Megrahi's return to Libya. Al-Megrahi was released on compassionate grounds in 2009 and returned home to a hero's welcome from supporters of Moammar Gadhafi. He is now near death and slipping in and out of consciousness, according to his brother. His release by Scottish authorities was loudly protested by the U.S., as were the circumstances of his return to Libya.
State Department spokeswoman Victoria Nuland said U.S. officials have spoken to senior members of Libya's Transitional National Council about the case. She said the TNC had agreed to look into it once it consolidates control over the country and establishes a fully functioning government.
"We asked the TNC to, as soon as it can, take a hard look at what it thinks ought to happen with Mr. Megrahi, and it is committed to do that," she told reporters.
"This is a new day in Libya," Nuland said. "This is a guy with blood on his hands, the lives of innocents. Libya itself under Gadhafi made a hero of this guy. Presumably, a new, free, democratic Libya would have a different attitude towards a convicted terrorist. So it is in that spirit that the TNC will look at this case."
---