Yao Ming, Richard Branson team up to stop shark fin trade
Yao Ming and Richard Branson are teaming up to help put an end to the cruel trade of shark fins for use primarily in shark fin soups in China.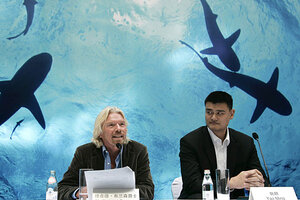 AP
Recently retired Chinese NBA star Yao Ming is taking the fight against eating shark fins back to his homeland, where demand for the traditional delicacy is soaring despite efforts to ban their use and trade.
Yao and British tycoon Richard Branson made an appeal Thursday in Shanghai against eating shark fins, which are a staple of high-class Chinese banquets, to a group of 30 of China's richest and most influential businesspeople.
"When demand happens, the buying happens and the killing happens," said Yao, a 7-foot-6 (2.29-meter) former center who retired in July after eight seasons with the Houston Rockets due to injuries.
Shanghai-born Yao is using his post-retirement free time to help campaign against the slaughter of 1.5 million sharks a week that is taking some of the species close to extinction.
The event, sponsored by the conservation group WildAid, is aimed at starting a conservation movement in China "not just to protect the sharks but to protect tigers, and to protect other species that are in peril of extinction," Branson said.
---