Raffaele Sollecito to be sentenced with Amanda Knox
Raffaele Sollecito usually sits near Amanda Knox while in court, but has shared little of the attention garnered by his co-defendant..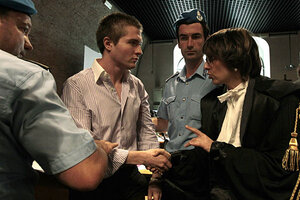 Alessandro Bianchi/Reuters
Amanda Knox's former boyfriend Raffaele Sollecito is "very scared" but hopeful an Italian court will absolve him of murder, his father said.
Knox and Sollecito, 27, were found guilty of murdering British student Meredith Kercher during what prosecutors said was a drug-fuelled sexual assault in 2007 that ended with the American stabbing her roommate while her accomplices pinned down the victim.
Sollecito, who began dating Knox just over a week before the murder, was sentenced to 25 years in jail. He and Knox, who got 26 years, are appealing their sentences and a verdict in the trial is expected on Monday.
"He's scared. It's clear he's very scared," said his father Francesco Sollecito, a well-known urologist often seen outside the Perugia courthouse smoking a cigar.
"But he is hopeful of the right verdict," he told Reuters.
A third man, small-time Ivorian drug dealer Rudy Guede, was also jailed for taking part in the murder. But most of the attention in the case has revolved around Knox, with Sollecito's lawyer dubbing the trial "Amanda-centric".
The computer student from the southern coastal town of Giovinazzo in Puglia has been depicted by prosecutors as a naive young man bewitched and led astray by Knox.
---