Hurricane Rina bound for Cancun, Mexico
Hurricane Rina is now a Category 2 hurricane, and is forecast to reach Cancun, Mexico, Thursday. Coffee futures are up due to expected losses due to hurricane Rina in the region.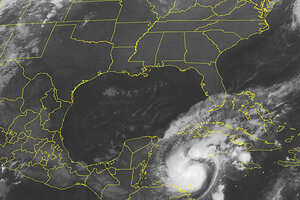 (AP PHOTO/WEATHER UNDERGROUND)
Hurricane Rina intensified in the Caribbean Tuesday, moving farther from recently rain-hit coffee and sugar-growing countries in Central America as it bears down on the popular Mexican resort Cancun.
The U.S. National Hurricane Center said Rina, the sixth hurricane in the Atlantic this year, is expected to make landfall on Mexico's Yucatan Peninsula early Thursday after hitting Belize, both of them home to beach getaways.
Authorities have issued a hurricane watch for the east coast of the Yucatan from Chetumal to Punta Gruesa.
Rina, now a Category Two hurricane on the Saffir-Simpson intensity scale, was located 305 miles east southeast of Chetumal, Mexico with maximum sustained winds of near 100 miles per hour, the forecasters said.
``Additional strengthening is forecast during the next day or so,'' the Miami-based hurricane center said. ``And Rina could become a major hurricane by tonight or early Wednesday.''
---